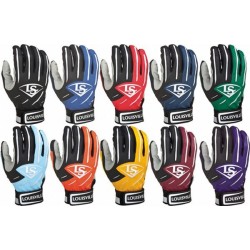 Reference: WTLBGS514Y-S-BLK
Brand: Louisville Slugger
Guantino per ragazzo  PROFESSIONAL design and look EMBOSSEDSHEEPSKIN palm LYCRA STRETCH ZONES maximize fit ELASTIC STRETCH wrist strap
Price
€20.90
Regular price
€29.80
 Spedizione dal 5 Febbraio 2015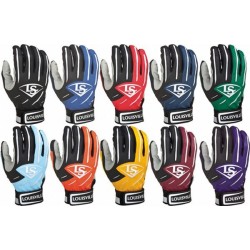 Reference: WTLBGS514A-S-RD
Brand: Louisville Slugger
Gloves for adults * The item is composed of a right and a left glove Louisville Slugger Series 5 Batting Gloves combine proven design with rugged materials to perform game after game. A sturdy grip, comfortable fit and durable performance allow you to hit the bat with full confidence in your swing. Size Table
Price
€17.90
Regular price
€29.80
 Available from 10th February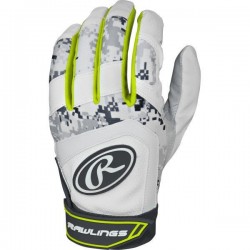 Reference: 5150BGY-S-BLK
Brand: Rawlings
Youth
Price
€21.50
Regular price
€30.80
 Available from 10th February
Price
€40.70
Regular price
€81.40
 In stock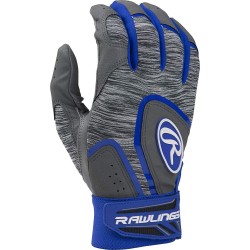 Reference: 5150GBGY-S-BLK
Brand: Rawlings
Youth Categories * The article is composed of a right and a left glove These batting gloves feature a durable goatskin palm and Flexfit Digi Camo backing. The double lycra mesh creates an excellent fit Size Table
Price
€20.10
Regular price
€28.70
 In stock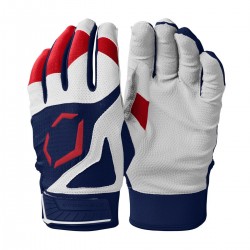 Reference: WB571200-XL-BLK
Brand: Evoshield
Sensazione incredibile a un prezzo incredibile. I nuovissimi guanti da battuta EvoShield SRZ-1 sfruttano appieno un palmo completamente sintetico e un rovescio in mesh a quattro vie traspirante in uno dei nostri guanti da battuta più comodi fino ad oggi. 
Price
€22.50
Regular price
€25.00
 In stock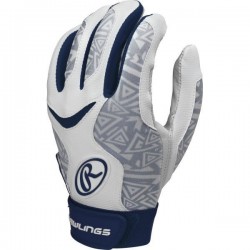 Reference: FPSBG-87-XS-BLK
Brand: Rawlings
Womens 
Price
€21.50
Regular price
€30.80
 Available from 10th February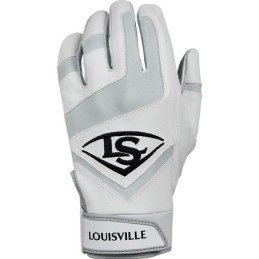 Reference: WTL6304-M-BLK
Brand: Louisville Slugger
Louisville Slugger Youth Genuine Batting Gloves Louisville Slugger's Genuine batting gloves will help you perform your best at the plate. The one piece synthetic palm and thumb design allow for a no-slip grip. Stretch lycra on the backhand allow for better flexibility and breathability.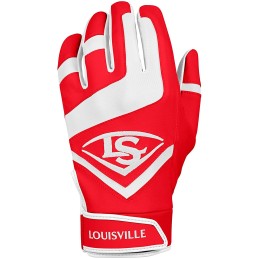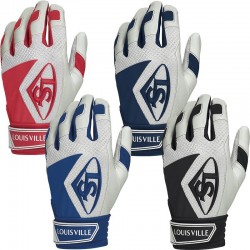 Reference: WTL6101-S-NV
Brand: Louisville Slugger
Batting gloves * The item is composed of a right and a left glove Louisville Slugger 's Series 7 Batting Gloves are designed for the elite player, with professional patterns and innovative technologies that give hitters the comfort and feel they are looking for on the plate. The ni gloves feature a digitized sheepskin palm for maximum comfort and grip, as...
Price
€20.80
Regular price
€41.60
 In stock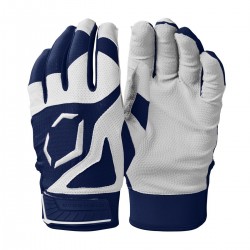 Reference: WB571210-M-NV
Brand: Evoshield
Incredible feeling at an incredible price. The all-new EvoShield SRZ-1 batting gloves take full advantage of a fully synthetic palm and breathable four-way mesh backhand in one of our most comfortable batting gloves to date.
Price
€20.00
Regular price
€25.00
 In stock